Live-streaming
and
Church Audio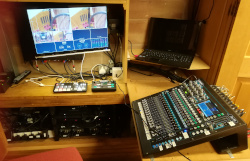 From Mothering Sunday 22nd March 2020, we have been livestreaming our services. Initially, this was because only those involved in leading the service were allowed into church. This ministry was therefore intended to target our regular congregation. It soon became clear that we were actually reaching a much wider group of people. There were those who are linked to St John's who, for various reasons, can't be in church on a Sunday, and there are people who have no obvious connection to the church, who have found our live-stream, and have appreciated our offering.
While our Sunday live-stream is proving valuable and worthwhile, it was when we offered the live-stream for funerals and weddings that the true value became clear. When we were limited to 30 in church for these services, the live-stream meant that many more could attend virtually. Then there have been many who live far away – even Australia - who would not have been able to attend even if Covid had not been around. The live-stream has meant that so many more people have been able to be part of these important life events.
Having seen the value of live-stream, we feel that it is right to continue to offer this. However, our equipment for doing this is rather Heath-Robinson. We are using computers that do not belong to church and other equipment that is not designed for this purpose. The quality of our live-stream is not as good as it could be and we would like to improve this.
To continue with this ministry, we need to upgrade some of our equipment and acquire other items that will do the job more effectively.
These requirements fall into 3 categories:
We need to upgrade our sound system. The speakers are not designed for the musical demands we are asking of them, an important requirement now that sadly our regular organist has died, and we need the system to feed directly into the live-feed. This is also an opportunity to ensure that the whole church gets sound reinforcement – at present there are many areas where the sound does not carry.
The screen we are using to project the words of the service is blocking the view of the front of the church and is taking up room we would like to use for other purposes. The projector is also in the way and needs to move Keeping you informed somewhere more suitable. We are proposing a screen that will hide behind the stone roof trusses in the chancel, dropping down only when needed. The projector would be wall mounted and therefore well out of the way.
Finally, we need a camera designed for the purpose of live-feed, together with other equipment that would achieve live feed much more simply and efficiently.
Purchasing this equipment will not be cheap, the total cost will be around £30,000. We hope to access grants from various organisations, but also hope to raise some money ourselves. We are proposing to hold a gift day on Sunday 22nd May and any amount, however small or large will be greatly appreciated. We hope that many people would be prepared to support this and contribute. If you are able to help us, you can contribute via our Facebook page https://www.facebook.com/stjohnswalton or via the button below