Knit & Natter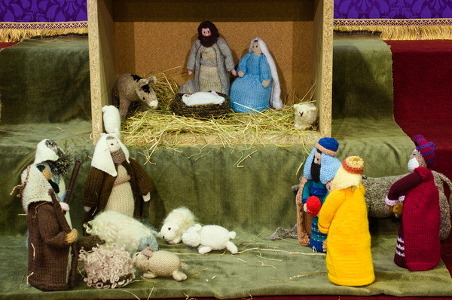 This friendly group was founded in 2010 by Molly Griffith and is now in its 8th year. We meet the 2nd and 4th Tuesday of every month in St John's Church Hall from 1:30 pm to 3:30pm. New members are very welcome. One does not have to be able to knit or crochet– someone will always help.
Over the years we have been involved in many projects – 'Teddies for Tragedies' - 'Hats for Innocent Smoothies for Age UK.' We knitted hats for the troops; And vests & hats for "Fish and Chip babies", the African babies sent home wrapped in Newspaper. Some members knit blankets for memory boxes for the Still Birth and Neonatal death Society.
Every year we produce knitted Easter Chicks filled with an Easter Egg –proceeds go to St John's.
Last year we knitted a Nativity Scene for the Church which caused a great deal of hilarity as the Sheep were all shapes and sizes and the Shepherds wouldn't stand up. You do not have to be an expert – so please come and join us.
St John's Knit & Natter Lending Library

Community Church Hall
1.30pm – 3.30pm
2nd and 4th Tuesday each month
Open to the whole community of Walton
Small charge of 20p per book borrowed